BUY ONLINE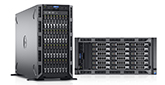 New, award-winning 14th generation of Dell EMC PowerEdge servers enable up to 50% more VDI users per server
Easy-to-use, next-generation OpenManage Enterprise™ console engineered to unify system management experience
New security features for enhanced protection against malicious threats and unwanted internal changes
ProSupport Plus with SupportAssist can reduce time to resolve hardware issues by up to 90%
Dell EMC is previewing its most cutting-edge portfolio of PowerEdge servers ever to help customers drive IT Transformations. PowerEdge 14th generation servers will be embedded in storage and data center appliances, hyper-converged appliances and racks, ready nodes, bundles and other industry-leading Dell EMC solutions.

The new scalable business architecture of Dell EMC PowerEdge servers enable customers to meet dynamic business needs with performance optimized for traditional and cloud-native workloads. The new Dell EMC PowerEdge server portfolio is enhanced to:
Increase application performance and response time – With 19X more Non-Volatile Memory Express (NVMe) low latency storage than the prior generation, Dell EMC leads the industry in driving industry standards in NVMe via Express Flash
Get results from PowerEdge faster – One-click BIOS tuning enables quick-and-easy deployment of many processing-intensive workloads
Access to the right data at the right time – With enhanced storage capacity and flexibility, customers can tailor their storage configurations to their application needs, this is especially critical in a software-defined-storage (SDS) environment
Newly enhanced systems management features embedded in the Dell EMC PowerEdge portfolio uniquely automate productivity and simplify lifecycle management from server deployment to retirement. These new management features:
Unify the server management experience and provide full data center monitoring – OpenManage Enterprise is a new virtualized enterprise system management console with application plug-ins, an easy-to-use interface and customizable reporting
Speed troubleshooting and maximize server uptime – The enhanced iDRAC 9 provides up to 4 times better systems management performance over the prior generation
Enable faster remediation - ProSupport Plus with SupportAssist can reduce time to resolve parts failure by up to 90%
Improve power efficiency and compute density – Automatic multi-vector cooling enables more GPU accelerators in a single configuration, increasing up to 50% more VDI users per server
The Dell EMC PowerEdge portfolio embeds new hardware and system-level security features to protect the infrastructure with a deep layer of defense and quick detection in order to recover to a trusted base, if breached. The differentiated security features in the server:
Prevent unauthorized or inadvertent changes – System Lockdown, an industry-first feature, prevents configuration changes that create security vulnerabilities and expose sensitive data
Secure data center through a cyber-resilient architecture – Features such as SecureBoot, BIOS Recovery capabilities, signed firmware and iDRAC RESTful API (compliant with Redfish standards) provide enhanced protection against attacks
Ensure privacy – System Erase quickly and securely erases user data from drives or wipes all non-volatile media when a server is retired
The new design of the Dell EMC PowerEdge 14th generation server portfolio has already won a user-experience design award, with a completely reimagined portfolio identity to mirror how customers interact with servers:
Improve airflow – A new streamlined front profile moves air efficiently, optimizing power for application performance
Deliver an intuitive user experience – Server configuration and monitoring is now possible via a handheld smart device with Quick Sync feature
Be eco-friendly – Introduction of hemmed edges as a structural element, eliminates the use of paint on the server reducing environmental impact

Download 14G PowerEdge Server Solutions Brochure for more information.

For availability please contact ASBIS Enterprise specialist.