In 2020, the NVIDIA A100, A40, and A6000 were announced and brought an outstanding generational jump in performance. NVIDIA's GPU lineup has extended, and GIGABYTE servers are currently testing to ensure compliance and validation with the new GPUs. Two new GPUs, the NVIDIA A30 and NVIDIA A10 Tensor Core GPUs, will target mainstream enterprises for AI inference, training, and HPC, including running the NVIDIA AI Enterprise software suite on virtualized infrastructure. Targeting workstations, the new NVIDIA RTX A5000 and A4000 GPUs are ideal for real-time rendering, AI, VR, and compute solutions.

The new GPUs will bring added value to GIGABYTE servers, whether they be GPU dense or simply a workstation. For performance, the A30 is designed for demanding workloads in AI inference and HPC at an optimal price point. The A10 accelerates mainstream media and graphics with AI. The RTX series offers workstation professionals two options: the new A5000 is higher performing and dual-slot, and the A4000 is a solid performer in a convenient single-slot form factor for density and versatility.

GIGABYTE's broad server portfolio supports up to 8 dual-slot NVIDIA GPUs with NVIDIA NVLink interconnect technology such as in the GIGABYTE G492-Z51, which is also an NVIDIA-Certified System™ and offers access to an incredible library of resources and support for high-level compute and AI. The G492 excels at computation with dual-slot CPUs, 32 DIMMs, and 12 bays for NVMe/SATA/SAS drives. It can also accommodate two more accelerators or high-speed networking. Another high-performing server for accelerators is the GIGABYTE G242-Z11 that is also NVIDIA-Certified and supports up to four GPU cards with PCIe Gen 4 lanes for fast throughput. Both servers also support the newly released AMD EPYC 7003 Series Processors for high performance and no limitations allowing for the GPUs to accelerate workloads.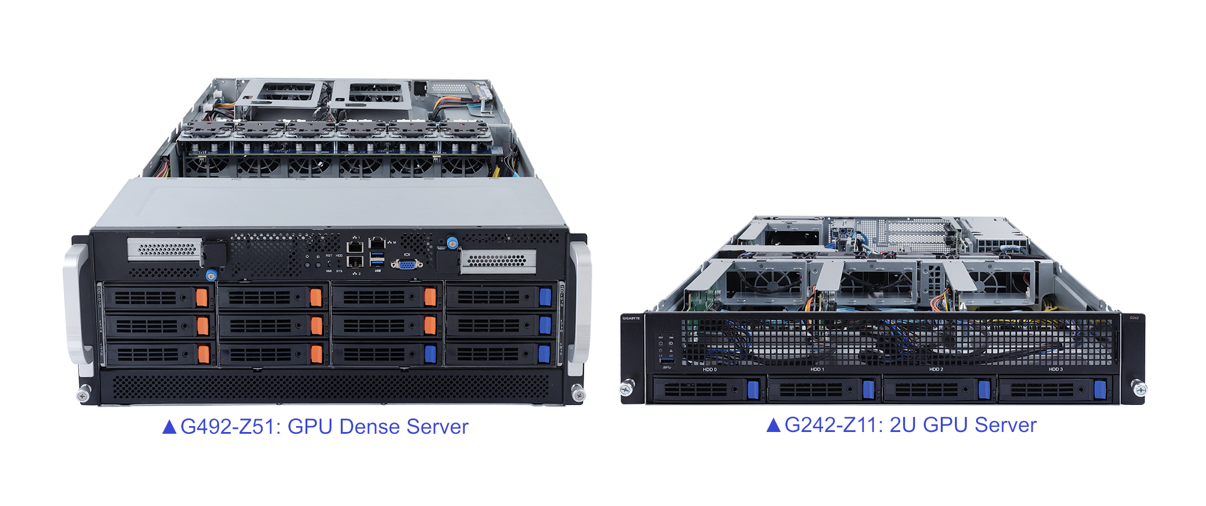 Remote and Multiple Server Management:

As part of GIGABYTE's value proposition, GIGABYTE provides GIGABYTE Management Console (GMC) for BMC server management via a web browser-based platform. Additionally, GIGABYTE Server Management (GSM) software is free to download and used to monitor and manage multiple servers. GMC and GSM offer great value while reducing license and customer maintenance costs.
>>Learn more about our servers
THE MUST-SEE KEYNOTE
It all started with NVIDIA CEO Jensen Huang's keynote, where he revealed what's next for accelerating computing. Some exciting surprises waiting for you inside. Available on demand.